Jonce Marshall Palmer
Jonce is a poet, teacher, and organizer living in the Denver area. They are the author of the chapbook Searching For Smoke Rings published by Ghost City Press. Their poems can be found in UNDERGROUND, ANGLES, Cleaning up Glitter, Cathexis Northwest Press, Heirlock Magazine, Paintbucket, Kanstellation, SPORAZINE, Pedestal Magazine, Plainsongs, Prolit Magazine, Protean Magazine, Beestung & Blue Marble Review. An extensive amount of album reviews, music news, and more can be found at Everything Is Noise.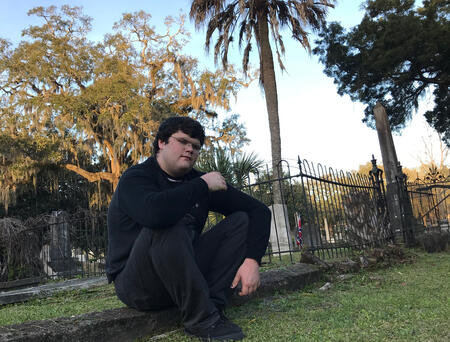 NOW AVAILABLE FROM
GHOST CITY PRESS
CLICK THE LINK BELOW!

One night I posted the link to a Google Doc on Twitter. It became Living Journal, which is exactly what it looks like: a Google Doc that I slapped a title on at almost 4 am and promptly posted to Twitter, replying to @BigProsody (who runs Paint Bucket) daring my fellow poets to collaborate on a journal that will forever remain in flux. The offer still stands, poet. You know what to do.
Poems & other Writings:
---